By Kayla Gubov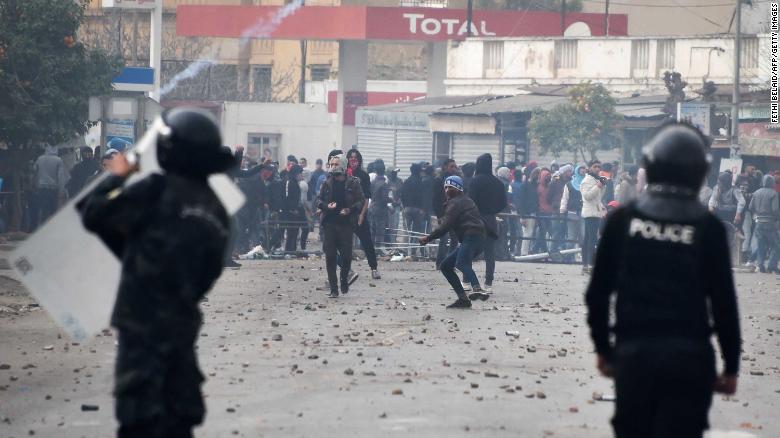 Widespread protests escalated on Sunday to mark the seventh anniversary of the Tunisian uprisings and the overthrowing of President Zine al-Abidine Ben Ali. What began as peaceful marches turned into violent clashes as the government pushed back against the masses. The calls for government reform stem from economic hardships and corruption within the new government.
Tunisia, the birthplace of the Arab Spring, has been used as the example for the only successful outcome of the 2011 revolution. Compared to the failure in Egypt, many say Tunisia is an exemplary case of a revolution in the Middle East. The new rounds of protests suggest a different story.
The protests began January 7th, when the government increased taxes and prices of goods to the 2018 budget. This was in direct response to reduce their deficit after a $2.9bn loan from the International Monetary Fund (IMF). When news struck, Tunisians took to Habib Bourguiba Avenue, where seven years ago protests had dismantled their regime.
Recent economic protests in Iran caused heightened security throughout the region, and regimes are worried of another Arab Spring, leading to harsh crackdowns on the protestors. According to Tunisia's interior ministry, 800 people have been arrested and one man has died, since the start of the protests
Since the 2011 revolution, the youth unemployment rate stands at 35%;the rise of terrorism has decreased tourism; currency has fallen by 60%; and corruption scandals still plague the regime. Paired with the memories of the anniversary of the Arab Spring revolts fresh in Tunisians' minds, protests took to the streets across the country to be heard.
President Beji Caid Essebsi visited Tunis and tried to quell the anger with promise of social reforms and economic relief, saying: "We feel for you, these are our families." Time will tell if his backtracking will be enough to calm their anger.
The protests seem to be registering with Essebsi's government, but have not received much coverage in the media. Similarly, the 2011 uprising in Tunisia was mostly ignored in the news and only years later became known worldwide. Without media attention it seems another revolution is unlikely, but Tunisia is hovering on bringing much needed reforms to the country.
Photo: Fethi Belaid/ AFP/ Getty Images